Designing the Future, One Website at a Time
Transform your online presence with our expert team of designers and developers. We create custom websites that are visually stunning, user-friendly, and optimised for search engines.
At AW Web Design, we offer a wide range of services to help businesses succeed online. 
Here are just a few of the many services we provide: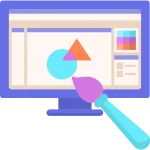 At AW Web Design, we offer custom-built websites that are unique and tailored to the specific needs and preferences of our clients.
Unlike other web design firms that use templates, AW Web Design take pride in creating bespoke sites from scratch, ensuring that each website is visually appealing and perfectly aligned with our clients' brand identities.
We take the time to understand our clients' business goals, target audience, and industry trends to deliver exceptional websites that perform seamlessly on all devices.
We ensure that every website we create is 100% responsive, meaning that it adapts seamlessly to any device or screen size. This is important in today's digital age, where more people access the internet using mobile devices than desktop computers.
A responsive website not only provides a better user experience, but it also helps with search engine optimization (SEO) by improving the website's visibility and ranking on search engines like Google.
We achieve 100% responsiveness through the use of the latest web design technologies and best practices, ensuring that our clients' websites are accessible and functional to all users, regardless of the device they use.
Understanding that search engine optimisation (SEO) is crucial for the success of any website is something we take very seriously. That's why we include SEO as part of our web design service, rather than an add-on extra.
Our experienced team works to ensure that our clients' websites are optimised for search engines from the outset. We conduct extensive keyword research, ensure that the website structure is optimised for search engines, and create high-quality content that is both engaging and SEO-friendly.
AW Web Design prioritise our clients' needs, providing exceptional support and customer service throughout the web design process and beyond. We listen closely to our clients' requirements and work with them to bring their vision to life.
Our dedication to our clients has earned us a reputation for excellence, and we are proud to say that we have never received a review below 5 out of 5. We are committed to maintaining this standard of excellence with every project we undertake.
We work with both individuals and businesses of all sizes, across various industries, to design websites of all kinds – from simple landing pages to complex e-commerce sites.
We take pride in the reviews we receive from genuine individuals…
"From beginning to end, Adam of AW Web Design took my ideas and crafted them into a modern, vibrant and easy to use website. Adam turned my ideas into reality and nothing seemed to phase him. Delivered on time and certainly within budget. Thank you."
Gareth Lawrence – The Ideal VA
"Been a brilliant service helping me design, build and maintain my website.
Very helpful, very fast and great at what he does.
10/10″
Charley Halford – Halfordsucks
"Adam is a lovely helpful guy. He has designed and controls the pages for my new business. All questions are answered promptly, always there to guide and chat."
Terri Nichols – Wags n Pads
"Excellent service as always at promptly delivering a top tier website with great functions.
Explains everything well to us to ensure we can easily provide an excellent service to customers"
"Prompt. Cheerful. Pleasure to work with. Skilled.
We rebuilt our previous website made from scratch with Adam and it blew all our expectations out the water"
Contact us now for beautiful, responsive websites that help achieve your business goals.